So A little background I was watching myc tysons vidoe and he talked about this pyrex glass media bottle with a special pouring lip edge breaker.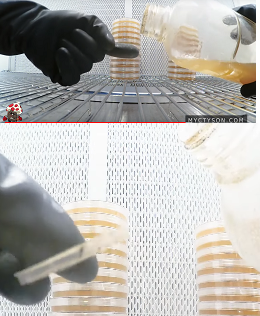 Then I found the 2l bottles that were auo clave safe but they were $900 for 3 they have a built in edge lip so agar pours like a dream.
https://www.usplasti...px?itemid=31957
Conduct trace metal analysis, high and low-temperature work, or rigorous cleaning with these bottles. Bottles feature a certification to contain less than 20 particles per mL at 0.3 and greater. Metals certified to micrograms per liter (ppb) levels. Each bottle is double bagged under Class 10 laminar flow hoods inside a Class 100 cleanroom. The product includes a certificate of quality that assures the product has been tested and accepted.
Teflon® FEP bottle
Tefzel® ETFE cap
Leakproof
Excellent for storing high purity chemicals
Autoclavable
Temperature range: -105°C to 150°C
Meets FDA standards
Cap Size: 38/430; Neck ID: 24mm
Dimensions: 121mm Dia. x 246mm Hgt.
THEN i found them on ebay for #30 each and 15 shipping or similar and then I offered the guy $90 and i was Im gonna be slinging agar but these are way too nice for what i need will you help ouy a mycologis and sell me 4 for 90 and he did so for the volume
https://www.ebay.com...872.m2749.l2649
I am not associated with any of the people and i actually did get 4 of the bottles and a 1 l bottle from tysons video that was is amazing0 and thats a hell of a price.
I have not yet poured agar with the 2l bottles yet
this is a link for an ebay search "nalgene fep" https://www.ebay.com...ne fep&_sacat=0
All that stuff has some amazing properties such as remaining flexible under the refrigeration temp of liquid nitrogen, Able to withstand infedinite PC cycles.
Edited by groo, 26 December 2020 - 01:42 AM.