I've had to pause most of my mycology work due to other work impinging on time... Sigh...
Anyhow, checked on my plates today and one of my golden teacher plates from 1/22 is actually pinning.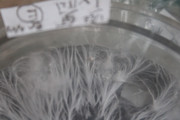 Pin is in the middle of frame, top of plate.
I've not seen this happen before with any of my cubensis grows, though I have observed this with a previous lion's mane culture.
I'm curious if this is an indication of any particular genetic traits?
Clearly , this is a fruiting strain, (coming from a clone of a previous grow) but it still appears that I am working with mixed genetics (no isolate yet) as other plates grown out from the same initial clone display variations/sectoring.
I'm still a newb when it comes to the science behind the genetics/strain isolation etc- and so if any experts out there could point me in the direction of any learning resources, (textbooks etc) I'm much obliged.
Edited by Severian, 08 February 2023 - 06:47 PM.