If you're like me, and have many a capitally excruciating hobby, no worries coz I'm the cheapest sod in the mushy biz. This is a little incubator build based solely on scrapheap specials, the only supplies necessary are probably some solder, tinsnips and electricity (if you're a true hobo- get an extension cord from aforementioned scrapheap). Here we go!
You need;
1. Panel oven or similar with contained heating elements (so as not to risk electrocution or fire).
2. Axial thermostat.
3. Some other stuff you can innovate on yourself, I don't feel like spelling out everything - I just wanna spread the inspiration...
Anyhoo, pics speak for themselves, let the cacophony begin!
First pic is the nearly finished product so you get an idea of the configuration, took me an hour to put together including all the snipping/welding/riveting/soldering/whimpering over scorched finger-ing.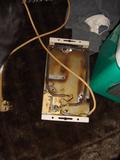 Notice the distance between the heating element and thermostat housing, this is because I purposely used a heavy load thermostat too keep things compact and heat triggering accurate.
The finished product has an external thermostat control (hooks up to the inside unit with an axle)! And thats an in out thermometer top left (store bought unfortunately :thumbdown:).
Works wonderfully, and much more stable,adjustable temps then a heatbomb/TIT could produce.