https://mycotopia.ne...tml#post1245792
LD cite
The reason for that is best explained with this humic acid elemental graphic:

Humic acids are thought to be complex aromatic macromolecules with amino acids, amino sugars, peptides, aliphatic compounds involved in linkages between the aromatic groups. The hypothetical structure for humic acid, shown in figure, contains free and bound phenolic OH groups, quinone structures, nitrogen and oxygen as bridge units and COOH groups variously placed on aromatic rings.
Here is fulvic acid: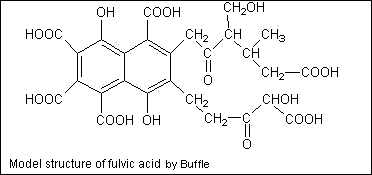 Here is how it plays out in a pure humic acid like the one that you're using from BioAg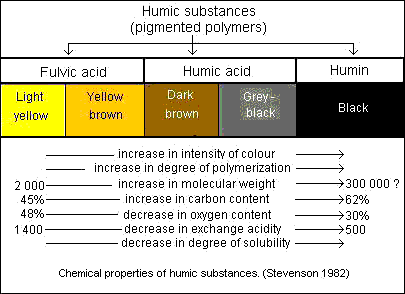 Properties of Humic Substances
Humic Acids - the fraction of humic substances that is not soluble in water under acidic conditions (pH < 2) but is soluble at higher pH values. They can be extracted from soil by various reagents and which is insoluble in dilute acid. Humic acids are the major extractable component of soil humic substances. They are dark brown to black in color.

Fulvic Acids - the fraction of humic substances that is soluble in water under all pH conditions. They remains in solution after removal of humic acid by acidification. Fulvic acids are light yellow to yellow-brown in color.

Humin - the fraction of humic substances that is not soluble in water at any pH value and in alkali. Humins are black in color.

Guess which one 'Leonardite' falls into - LOL

At any rate, humic acids perform a completely different function than do fulvic acids. As you can see from the humic acid graphic, it is a huge entity with huge number of exchange sites - primarlily carbon ©, oxygen (O) and hydrogen (H) - the 'Cation exchange Capacity' of a soil.

Hydrogen is always plentiful (water is H20) and the plant roots exude hydrogen to exchange with Calcium, Magnesium, Potassium, Phosphorus and many other elements at the cation exchange sites. Hydrogen is a base acid and if it is floating around and not attached to clay or a humus atom, it will result in an acidic coil.

Specifically calcium, magnesium, potassium and sodium are base alkaline elements which is why some farmers apply calcium (alkaline base) to an acidic soil to raise the soil's pH.

Fulvic acid is much smaller in structure - small enough to enter the capillary system of a plant and can carry cations along for the ride - that's a good thing.

Where the problem comes in with an over application of pure humic acids is that they contain 20% fulvic acid. Fulvic acid (along with liquid silica) are chelating agents - also a good thing. But in high doses the liquid silica and fulvic acids also begin to chelate the other acidic base cation - aluminum. Aluminum is almost always bonded with silica and stays stable until it's freed from the bond and now you have much bigger problems than pH - aluminum will definitely do a number on your plants.

Moral of the story is this - only apply the BioAg TM-7 product about every 10 days and only the amount recommended on the label. Contact Ryan for a more complete level of information but this is the down and dirty version.